Blogi
Mapping the customer journey – The first step towards a successful experience
I have yet to meet a company that does not have a goal to increase customer loyalty and improve the customer experience. These are things to strive for, but it is easy to talk about very abstract things. Mapping the customer journey helps us to understand the concrete elements that make up experience and loyalty.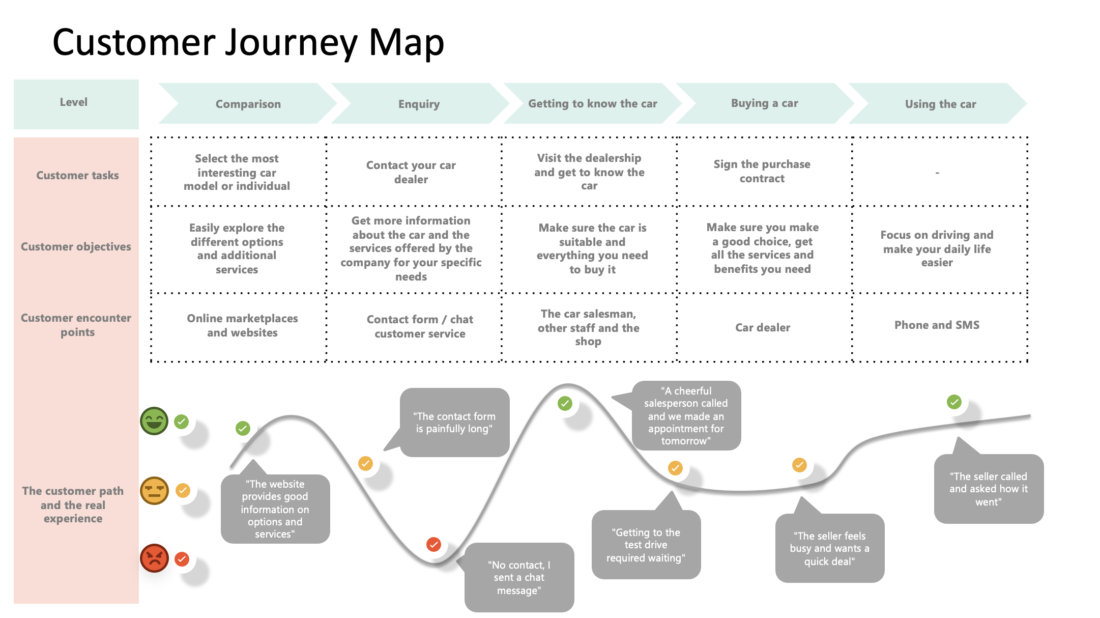 "The customer experience is not a single point of encounter: it is the sum of all the encounters, emotions and images that a customer has of their interaction with an organisation"

– Veikko Törrönen, KREAPAL
All encounters between the customer and the company create a path that the customer winds through when dealing with the company. This path is called the customer path and the encounters with the company are called encounter points. Overall customer satisfaction is the sum of all these encounter points. In order to improve satisfaction, it is first necessary to identify the most important points of contact for the customer's experience. Customer Journey Mapping is a tool designed to do this.
Customer Journey Mapping
The purpose of Customer Journey Mapping is to visualise the customer journey from the customer's perspective. At the same time, the different stages of the customer journey, the customer's tasks and the points of contact with the company are made visible. To help define customer objectives, it is worth interviewing customers so that the objectives are not based on assumptions.
"Defining the customer path is an effective way to understand what makes a viewer a long-term loyal customer"

– Kofi Senaya, Director of Product at Clearbridge Mobile
Start defining the customer path by going through the following steps:
What do you want to achieve by defining the customer path?
What are the customer's tasks when they buy a product or service from you?
What are the encounter points in the customer's path when they do business with you?
Which of the encounter points are most important for overall satisfaction?
Which encounter points can be developed to create a specific competitive advantage?
The following questions will help you in your task: 
Is the customer receiving the service in the channels they want?
Is the customer receiving service quickly through different channels?
Is it easy for the customer to find the information they need?
Is the customer's experience consistent when dealing with different people and functions within your company? 
Voit ladata pohjan Customer Journey Mappingin käyttöön tästä [PPTX-pohja]

Sami


Sources:

https://www.salesforce.com/fi/blog/2016/10/5-vinkkia-vaivattomaan-asiakaspalveluun.html
https://hbr.org/2010/11/using-customer-journey-maps-to

https://cxl.com/blog/customer-journey-mapping-examples/

https://www.kreapal.fi/blogi/miten-parantaa-asiakaskokemusta/